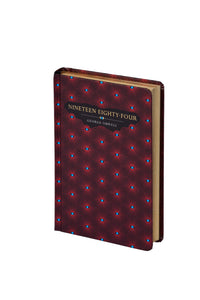 New Hardback
Winston Smith is a tiny cog in the Party machine, rewriting history at the Ministry of Truth. He harbours rebellious ideas, but under an oppressive system where facts, language, relationships – even thoughts – are strictly controlled, Winston is playing a dangerous game.
Orwell's dystopian masterpiece is a searing attack on totalitarianism, a nightmare vision where the dreaded Room 101 awaits dissidents, and where Big Brother is always watching.
Chiltern Publishing Classics series offer wonderfully detailed covers, sparkling guilt edges, creamy pages and stitched binding, making them some of the most beautiful classics ever published.