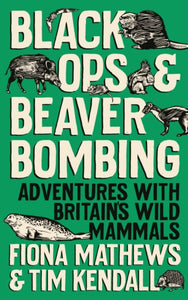 New Hardback
Britain is teeming with wildlife, often in the most unexpected places. There are stone mines where bats hang out with pot-smoking teenagers and water voles thrive without water in Glaswegian parklands. Our coastlines are laden with seals.

That's the good news. The bad news is that a quarter of British mammals are at imminent risk of extinction. Tim Kendall and Fiona Mathews take us on a safari unlike any other.

Armed with binoculars, a Thermos and, regrettably, an inexhaustible supply of puns, they travel from Scotland to the Isles of Scilly in search of their elusive subjects. You'll find answers to questions you never thought to ask: do pine marten droppings really smell like Parma Violets? Should we give squirrels access to family planning? And what do wild boar have in common with a certain royal? Black Ops and Beaver Bombing is a celebration of Britain's marvellous mammals, and a rallying cry to save them.