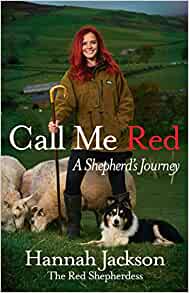 New Hardback edition with SIGNED bookplate
Growing up on the Wirral, Hannah Jackson had no idea she wanted to work on a farm until a life-changing family visit to the Lake District in her late teens. It was there where she first saw a lamb being born, giving her the drive to defy her urban roots and become a professional shepherd. She never looked back.

In this uplifting and inspirational memoir, Hannah shares how she broke the stereotypes of her 'townie' beginnings, took risks and faced up to the challenges of being a young woman in a male-dominated industry, and followed her heart to become the Red Shepherdess. But behind the beautiful landscape, talented sheepdogs and eye-catching red hair was a steep learning curve. The physically and mentally demanding conditions she faced as she chased her dreams to build her own Cumbrian farm taught Hannah the values the holds true, including community, leadership, patience and resilience.

In Call Me Red, Hannah gives a unique insight into farming life and reveals a mindset and determination that proves no matter your background, with hard graft (and a loyal sheepdog) you can make your dreams a reality.