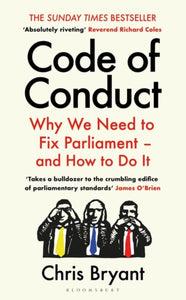 New Hardback
The extraordinary turmoil we have seen in British politics in the last few years has set records. We have had the fastest turnover of ministers in our history and more MPs suspended from the House than ever. Rules have been flouted repeatedly, sometimes in plain sight.

The government seems unable to escape the brush of sleaze. And just when we think it's all going to calm down a bit, another scandal breaks. As Chair of the Committees on Standards and Privileges, Chris Bryant has had a front-row seat for the battle over standards in parliament.

Cronyism, nepotism, conflicts of interest, misconduct and lying: politicians are engaging in these activities more frequently and more publicly than ever before. The result? The work of honest and accountable MPs is tarnished. Public trust is worn thin.

And when nearly two thirds of voters think that MPs are out for themselves, democracy is in trouble. It is time for a better brand of politics. Taking us inside the Pugin-carpeted corridors of Westminster, from the prime minister's office to the Strangers' Bar, Code of Conduct examines how parliament has got into this mess and suggests how it might - at last - get its house in order.