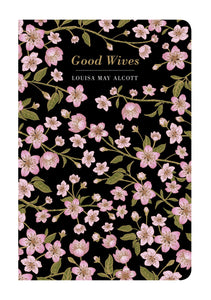 New Hardback
Good Wives takes off about three years after where Little Women left off. Meg is about to get married, Jo is attempting to launch a literary career, Beth has sadly never recovered from her scarlet fever and is now virtually housebound, and little Amy is maturing fast, and about to go off travelling with a wealthy aunt.
Each girl is struggling with her own problems; for Meg, she must learn to be a good wife and mother, and juggle the demands of the two; Jo must learn how to maintain her morals in a corrupt business, and rein in her headstrong and often selfish nature; Beth has to come to terms with the fact that she may never grow old, and learn to enjoy the time she has left without dwelling on what may come, and Amy must learn to put others first, and understand that money and fine things are nothing in comparison to a good heart and unconditional love.
Chiltern Publishing Classics series offer wonderfully detailed covers, sparkling guilt edges, creamy pages and stitched binding, making them some of the most beautiful classics ever published.