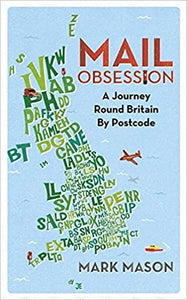 New non Fiction Hardback
Each of the United Kingdom's 124 postcode areas has a story to tell, an unexpected nugget to dust off and treasure. Mark Mason has embarked on a tour of the country, immersing himself in Britain's history on a roundabout journey from AB to ZE. On the lookout for interesting place names and unusual monuments, along the way he discovers what the Queen keeps in her handbag, why the Jack Russell has a white coat and how Jimi Hendrix got confused by the M1.

At the same time Mason paints an affectionate portrait of Britain in the 21st century, from aggressive seagulls in Blackpool to 'seasoned' drinkers in Surrey. And his travels offer the perfect opportunity to delve into the history of the Royal Mail, complete with pillar boxes, posties and Penny Reds - plus Oscar Wilde's unconventional method of posting a letter. A playful mix of fact, anecdote and overheard conversation, MAIL OBSESSION pays homage to Britain's wonderful past and its curious present.