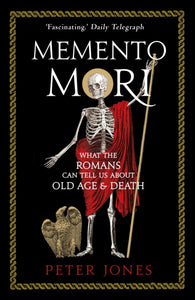 New Paperback
In this revealing and entertaining guide to how the Romans confronted their own mortality, Peter Jones shows us that all the problems associated with old age and death that so transfix us today were already dealt with by our ancient ancestors two thousand years ago. Romans inhabited a world where man, knowing nothing about hygiene let alone disease, had no defences against nature. Death was everywhere.

Half of all Roman children were dead by the age of five. Only eight per cent of the population made it over sixty. One bizarre result was that half the population consisted of teenagers.

From the elites' philosophical take on the brevity of life to the epitaphs left by butchers, bakers and buffoons, Memento Mori ('Remember you die') shows how the Romans faced up to this world and attempted to take the sting out of death.