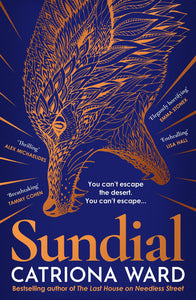 New Hardback
You can't escape the desert. You can't escape Sundial. Rob fears for her daughters.

For Callie, who collects tiny bones and whispers to imaginary friends. For Annie, because of what Callie might do to her. Rob sees a darkness in Callie that reminds her of the family she left behind.

She decides to take Callie back to Sundial, her childhood home deep in the Mojave Desert. And there she will have to make a terrible choice. Callie is afraid of her mother.

Rob has begun to look at her strangely. To tell her secrets about her past that both disturb and excite her. And Callie is beginning to wonder if only one of them will leave Sundial alive...