The largest book shop in the Yorkshire Dales
Open Daily
10:30am to 5pm April – October
10:30am to 4pm November - March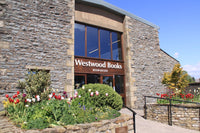 Find us in Sedbergh, England's Book Town
Westwood Books has a stock of over 70,000 titles - antiquarian, secondhand, and some new books.
Also stocked are maps, guide books, gifts, stationery, jigsaws, and cards.
There is a small car park to the rear of the shop, or two public car parks a short walk away.
We are sorry but only guide dogs or assistance dogs are allowed inside the shop.
How to Find Us
Great gift books for grown ups
Great gift books for children
Can't find what you're looking for?
Send us an email to books@westwoodbooks.co.uk or call us on 01539621233 we will be happy to help.
If there is a better way for a true book lover to spend their time than taking a drive through the Dales to Westwood Books, then I don't know what that is. A reader's paradise.

A.J. West, author of The Spirit Engineer
Large and excellent bookshop

Bill Bryson, Author
As I'm about to enter Westwood Books, I feel certain I will not leave empty handed. Only a small number of second-hand bookshops make me feel this. They're the best ones and it must be down to the curatorial nous and good taste of the owners, managers and/or staff.

Nicholas Royle, author of White Spines