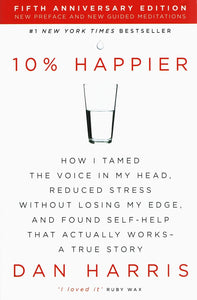 New paperback
10% HAPPIER is a spiritual book written for - and by - someone who would otherwise never read a spiritual book. This fifth anniversary edition features a new preface and new guided meditations from his favourite teachers, including Joseph Goldstein and Sharon Salzberg.

After having a nationally televised panic attack, Harris knew he had to make some changes. A lifelong non-believer, he found himself on a bizarre adventure and realised that the sources of his problems was the very thing he always thought was his greatest asset: the incessant, insatiable voice in his head, which had propelled him through the ranks of a hyper-competitive business, but had also led him to make the profoundly stupid decisions that provoked his on-air freak-out. What happened next was completely unforeseen.

Through a strange series of events - Harris stumbled upon something that helped him tame the voice in his head: meditation. At first, he was deeply suspicious, but when confronted with mounting scientific evidence that just a few minutes a day can literally rewire the brain for focus, happiness and reduced reactivity, Harris took a deep dive. He became a daily meditator, and even found himself on a ten-day, silent meditation retreat.

10% Happier is a narrative account of Dan's conversion amid the harried and decidedly non-Zen world of the newsroom and concludes with a section for the beginner on how to get started.