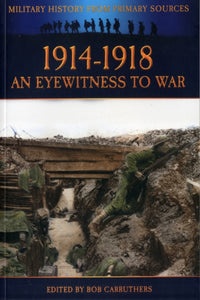 New Paperback
Compiled by Emmy Award winning author and historian Bob Carruthers, this is a fascinating collection of recollections from primary sources reflecting often overlooked aspects of the Great War. The struggle for Verdun, the battles between Austro-Hungarian and Russian forces in the East, and the daily life in the trenches are just some of the topics in this fascinating single volume collection which brings together four complete and intriguing memoirs. 'Over There - War Scenes on the Western Front' by Arnold Bennett, the Director of Propaganda for France, charts the beginning of the war in France. 'Four Weeks in the Trenches' by Fritz Kreisler is short memoir of the violence on the Eastern Front.

'They Shall Not Pass' by Frank H. Simonds, an American journalist, is an in-depth report on the battle of Verdun. 'An Onlooker in France 1917-1919' is by William Orpen, an official war painter of the First World War.

The book contains many of his paintings and drawings, not just of the officers and statesmen, but portraits and sketches of the ordinary soldiers and local people struggling to survive in an impossible situation.