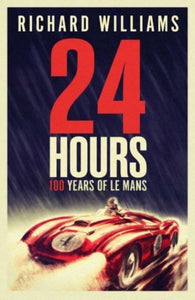 New Hardback
Award-winning writer Richard Williams tells the remarkable story of the 24 Hours of Le Mans, one of the world's most iconic motorsports events, which celebrates its centenary in 2023. The event was created by a group of Frenchmen in 1923 and remains uniquely compelling to spectators, to the major motor manufacturers who continue to see it as an opportunity for priceless publicity, as well as to drivers hoping to add their names to its distinguished roll of honour. Between the wars, those manufacturers included Bugatti, Bentley and Alfa Romeo.

Subsequently, Ferrari, Jaguar, Mercedes, Aston Martin, Ford, Porsche, Audi and Toyota have all been serial winners, guaranteeing the continuation of ferocious inter-marque rivalry. Over the decades the race acquired a rich folklore, including stories of leaking petrol tanks being sealed with chewing gum, one competitor making his last pit-stop for a fill-up and a glass of champagne, or the woman who drove her MG through the night wearing a fur coat. Competitors have included princes, debutantes, drug smugglers and a Nazi spy.

Leading Hollywood film-makers lured to the romance of the race include Steve McQueen, who conceived and starred in Le Mans in 1971, and James Mangold, who made Le Mans '66 in 2019. But in 1955 it had also been the scene of the greatest tragedy ever to befall motor racing, when 82 people were killed by a competing car, an accident that for a while threatened the sport's entire future. From the Bentley Boys of the 1920s, through record-breaking multiple winners Jacky Ickx and Tom Kristensen to modern stars such as Allan McNish, 24 Hours celebrates the skill, courage and technical brilliance of the men and women who gave the race its worldwide renown.