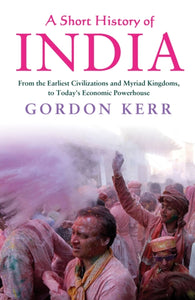 New Paperback
The world's largest democracy and second-most populous country, 21st century India is a dynamic nation with a thrusting economy, made up of a variety of beliefs and peoples united under one flag. Its history is a unique story of ancient empires and civilisations, some dating back to humankind's earliest times. Ancient India was home to myriad kingdoms with boundaries that were ever changing while a variety of cultures and religions have flourished over the millennia as the influence of foreign invaders and occupiers has come and gone.

The country was under foreign rule from the early 1800s until the demise of the British Raj and independence in 1947. With countless languages and cultures and many religions, India is one of the world's most diverse nations. From the late 1980s, India has opened itself to the outside world, encouraging economic reform and foreign investment and is now courted by the world's leading economic and political powers, including its one-time enemy, China.

It is now a major power with a burgeoning middle class, having made substantial strides in areas such as information technology. It has launched a space programme and, famously, boasts a massive film industry, its 'Bollywood' films being amongst the most-watched in the world. Meanwhile, India still has major issues with poverty and illiteracy and campaigns have been launched to alleviate these problems.

A Short History of India traces the fascinating path from the India of ancient empires and powerful kingdoms to the flourishing, vibrant nation that it is today.