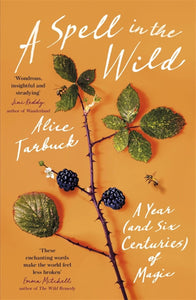 New paperback 
Witches occupy a clear place in contemporary imagination. We can see them, shadowy, in the corners of the past: mad, glamorous, difficult, strange. They haunt the footnotes of history - from medieval witches burning at the stake to the lurid glamour of the 1970s witchcraft revival.

But they are moving out of history, too. Witches are back. They're feminist, independent, invested in self-care and care for the world.

They are here, because they must be needed.'What it means to be a witch has changed radically throughout history; where 'witch' was once a dangerous - and often deadly - accusation, it is now a proud self-definition. Today, as the world becomes ever more complicated and as we face ecological, political and economic crisis - witchcraft is experiencing a resurgence. Witches are back.

In A Spell in the Wild, Alice Tarbuck explores what it means to be a witch today. Rooted in the real world, but filled with spells, rituals and recipes, this book is an accessible, seasonal guide to witchcraft in the twenty-first century. Following the course of a witch's calendar year while also exploring the history and politics of witchcraft, A Spell in the Wild is the perfect primer for the contemporary witch.