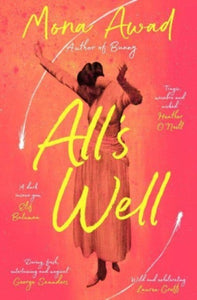 New Paperback
Miranda Fitch's life is a waking nightmare. The accident that ended her burgeoning acting career left her with excruciating, chronic back pain, a failed marriage, and a deepening dependence on painkillers. And now she's on the verge of losing her job as a college theater director.

Determined to put on Shakespeare's All's Well That Ends Well, the play that promised, and cost, her everything, she faces a mutinous cast hellbent on staging Macbeth instead. Miranda sees her chance at redemption slip through her fingers. That's when she meets three strange benefactors who have an eerie knowledge of Miranda's past and a tantalizing promise for her future: one where the show goes on, her rebellious students get what's coming to them, and the invisible, doubted pain that's kept her from the spotlight is made known.

With prose Margaret Atwood has described as 'no punches pulled, no hilarities dodged... genius', Mona Awad has concocted her most potent, subversive novel yet. All's Well is the story of a woman at her breaking point and a formidable, piercingly funny indictment of our collective refusal to witness and believe female pain.