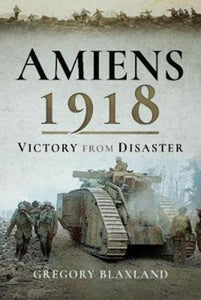 New Hardback
Gregory Blaxland has written a superb account of 1918, the final year of the war when the balance of advantage between the combatants changed so dramatically in a matter of weeks that summer. As the realities of the changing nature of warfare by late 1917 made the retention of static lines, no matter how sophisticated, no longer a long term viable option for the defence; and with Russia knocked out of the war, the Germans under Hindenburg and Ludendorff determined on a bold series of major offensives, the first of which was aimed at the British Fifth Army with the objective of seizing Amiens, a crucial rail head and the city that marked the boundary between the BEF and the French. Capture this and the Germans had a good chance of separating the key allied powers.

Despite almost destroying Fifth Army and advancing within ten miles of Amiens, the Germans failed in their objective; they turned to a number of other hard thrusts along the line but were foiled on each occasions. Reinforced by substantial numbers of American troops, the allies launched their first, French led, counter attack on 18 July, which many considered the turning point of the 1918 campaign and, indeed the whole war. Shortly afterwards, on 8 August, the BEF (with some French support) attacked with Fourth Army before Amiens and was stunningly successful-what Ludendorff described as the 'Black Day of the German Army'.

There followed a sequence of blows by all the allies along the Western Front, pushing the Germans back to the borders; with her allies collapsing and with the Imperial Navy in a state of mutiny, The book largely concentrates on the British and Dominion troops of the BEF. The first half is taken up with the attack on Amiens (and, to a lesser extent, on Arras). In the second half of the book the author provides a cohesive account of the British response in retaking the initiative from the Germans, though not failing to give allied nations their due.

Besides giving a full narrative account, he also provides a useful critical commentary of the performance of armies and generals. This is a welcome reprint of an accessible account of the crucial year of the war, when on the Western Front the conflict broke free of its entrenched deadlock. Despite the extraordinary achievements of the BEF in 1918, they still remain remarkably little known and even less appreciated.