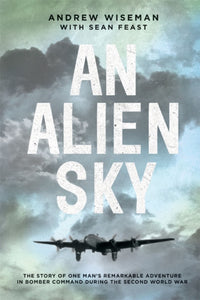 New Hardback
By any measure, Andrew Wiseman (born Weizman) is a lucky man. The only son of a Polish father and an American mother, Andy was born and grew up in Berlin, just as Adolf Hitler was coming to power. As a Jew educated at the famous Werner Siemens Real Gymnasium in Schoneberg, he left only months before his school was closed down and fled with his family to Poland, one step ahead of the Nazi persecution that was to follow and later take the life of his father.

From Poland he again fled to England, this time without his parents, arriving as a 16-year-old with little or no grasp of English. After a crash course in the language, he avoided being called up into the Polish army in exile thanks to the timely intervention of no less a man than General Sikorski himself, to enlist in the RAF to train initially as a pilot and then as an air bomber in South Africa. On his return to the UK he was posted to an all-Australian Squadron (466 Squadron) equipped with the Handley Page Halifax.

After his first operation in which he was nearly shot down, Andrew survived a handful of eventful trips before falling victim to one of the Luftwaffes top night fighter pilots and landing in France. Briefly on the run he was betrayed and captured, spending the next 12 months as a prisoner of war, using his knowledge of Russian, Polish and German to act as one of the principal camp interpreters, and working as a scrounger for the X committee of escapers. Moved from camp to camp, he was one of those forced into the Long March by the Germans attempting to escape the Russian advance, and afterwards played a key role in avoiding the potential bloodshed that threatened when the Russians refused to allow the British and Norwegian prisoners to return home a role for which he was later recognised by the King of Norway.

Upon his release, Andy used his language skills to work with the BBC monitoring service and later, BBC Television as a producer, sharing many adventures with the great broadcasters of their time, including David Dimbleby and Raymond Baxter.