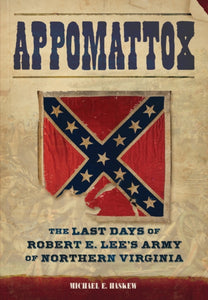 New Hardback
Appomattox: The Last Days of Robert E. Lee's Army of Northern Virginia encompasses the defense and evacuation of the Confederate capital of Richmond, the horrific combat in the trenches of Petersburg, General Robert E. Lee's withdrawal toward the Carolinas in his forlorn hope of a rendezvous with General Joseph E. Johnston's Army of Tennessee to carry on the fight, the relentless pursuit of Union forces, and the ultimate realization that further resistance against overwhelming odds was futile.
The Army of Northern Virginia was the fighting soul of the Confederacy in the Eastern Theater of the Civil War. From its inception, it fought against overwhelming odds. Union forces might have occupied territory, but as long as the Confederate army was active in the field, the rebellion was alive. Through four years of bitter conflict, the Army of Northern Virginia and its longtime commander, General Robert E. Lee, became the stuff of legend. By April 1865, its days were numbered.
There are many stories of heroism and sacrifice, both Union and Confederate, during the Civil War, and Robert E. Lee and the Army of Northern Virginia wrote their own epic chapter. Author Michael E. Haskew, a researcher, writer, and editor of many military history subjects for over twenty years, puts the hardship and deprivation suffered by this Army's soldiers while defending their home and ideals into proper perspective.