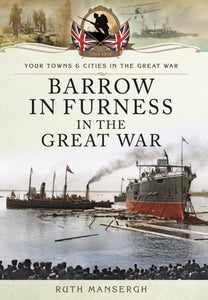 New Paperback
This book is about how Barrow's output of war materials was vital to the Great War effort, and it is about the Barrovians and men from the surrounding south Lakeland area - from all walks of life - who fought abroad, and the area's women war heroes. It includes background information on the history of the town, such as the Furness Railway, iron ore in the area and shipbuilding, and lists vessels built at Barrow pre- and during the war with information on what happened to them. These vessels include Mikasa and HMS Vanguard.

At the outbreak of World War One, Vanguard fought in the battle of Jutland. The Mayfly (or the Won't Fly as Churchill called it), built by Vickers at Barrow along similar lines to the very early Zeppelins, was launched in 1911. She was the first British rigid airship to be built.

Today, Astute submarines for the Royal Navy keep Barrow busy and local people turn up when new submarines are launched. This book also acts as a reference guide to local war dead and war heroes, lost heroes, the area's recipients of the Victoria Cross, memorials with details of those commemorated (including those whose names were unwelcome on memorials). Barrow's War Memorial in Barrow Park was unveiled in November, 1921 by Field Marshall Sir William "Wullie" Robertson and records close to 600 names of those who fought and died in the First World War.