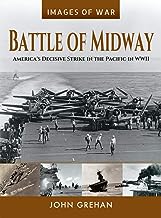 New Paperback
Japan's attack on Pearl Harbor in the Hawaiian Islands on 7 December 1941, had severely damaged the United States Pacific Fleet but had not destroyed it, for the fleet's aircraft carrier force had been at sea when the Japanese struck. This meant that, despite the overwhelming success of Japanese military forces across the Pacific, US carrier-based aircraft could still attack Japanese targets. After the Battle of the Coral Sea in early May 1942, in which both sides had lost one carrier, the commander of the Japanese Combined Fleet, Admiral Isoroku Yamamoto, calculated that the US had only two serviceable carriers left.

If those remaining carriers could be lured into a battle with the Combined Fleet and destroyed, nothing could stop the Japanese achieving complete control of the South Pacific. It would take the United States many months, even with its massive industrial muscle, to rebuild its carried fleet if it was destroyed, by which time Japan would be able to secure the raw materials needed to keep its war machine functioning and to build all the bases it required across the Pacific, which would enable its aircraft to dominate the entire region. Aware of the sensitivity of the Americans towards Hawaii after the Battle of Pearl Harbor, Yamamoto believed that if he attacked there again, the US commander, Admiral Nimitz would be certain to commit all his strength to its defence.

Yamamoto selected the furthest point of the Hawaiian Islands, the Naval Air Station on the Midway Atoll, for his attack, which was beyond the range of most US land-based aircraft. Yamamoto launched his attack on 4 June 1942\. But the US had intercepted and deciphered Japanese signals and Nimitz, with three not two aircraft carriers, knew exactly Yamamoto's plans.

Yamamoto had hoped to draw the US carriers into his trap but instead he sailed into an ambush. The four-day battle resulted in the loss of all four Japanese aircraft carriers, the US losing only one. The Japanese were never able to recover from these losses, and it was the Americans who were able to take control of the Pacific.

The Battle of Midway, unquestionably, marked the turning point in the war against Japan.