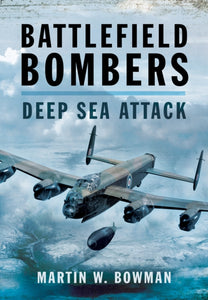 New Hardback
Featuring a unique selection of wide-ranging experiences of British and Commonwealth Bomber Command aircrew during World War Two, this new release details the deep sea bombing raids that occurred within this time-frame. The enduring bravery and fortitude of these bomber pilots is communicated through a series of first-hand recollections, as is their humour and occasional cynicism. All reflect the ethos, fear and bravery of these ordinary men, most of whom were plucked from 'civvy street' and thrust into a frightening, bitter conflict which was made even more dangerous by the lethal advance of technology.

With characteristic self-effacing modesty, the pilots, gunners, navigators and engineers tell of acts of great heroism, of dreadful injuries bravely borne, and personal fears overcome in the heat of battle. A comprehensive account of RAF Bomber operations on the infamous German warship Tirpitz is included, alongside many other similarly dramatic episodes. The gentle and unassuming narratives convey the sense of purpose that these men felt, employed in some of the most dangerous yet vital operations of the war.

It is a fitting tribute to those that survived and the many thousands who died in the struggle against Hitler's dreadful ambitions in Europe.