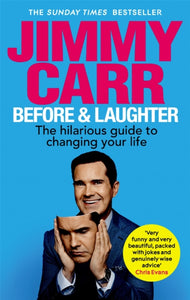 New paperback
In his mid-twenties, Jimmy was bored, boring, unfulfilled and underachieving. He wasn't exactly depressed, but he was very sad. Think of a baby owl whose mum has recently died in a windmill accident.

He was that sad. This book tells the story of how Jimmy turned it around and got happy, through the redemptive power of dick jokes. Written to take advantage of the brief window between the end of lockdown and Jimmy getting cancelled for saying something unforgivable to Lorraine Kelly, this book is as timely as it is unnecessary.

Because you might be interested in Jimmy's life but he's damn sure you're a lot more interested in your own, Before & Laughter is about both of you. But mainly him. It tells the story of Jimmy's life - the transformation from white-collar corporate drone to fake-toothed donkey-laugh plastic-haired comedy mannequin - while also explaining how to turn your own life around and become the you you've always dreamt of being.

It's cheaper than Scientology, quicker than therapy, and significantly less boring than church. Before & Laughter contains the answers to all the big questions in life, questions like:* What's the secret to happiness?* Is Jimmy wearing a wig?* What happened with that tax thing?* What's the meaning of life?* Is Jimmy's laugh real?* Can those teeth bite through vibranium? And for readers in the West Country: yes, there are pictures (actually, sorry, there are no pictures, but there's a book about a hungry caterpillar you'll love). Because it's Jimmy Carr - recently scientifically proved to be the funniest comedian in the UK - there are jokes, jokes and more jokes throughout.

If laughter really was the best medicine, the NHS would be handing out this book in Nightingale Hospitals. Fascinating, thoughtful and insightful - are all words that appear in the book.