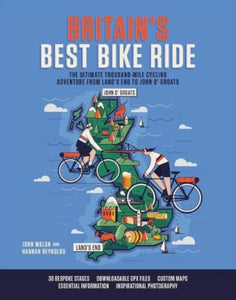 New Paperback
Britain's Best Bike Ride : The ultimate thousand-mile cycling adventure from Land's End to John o' Groats
Britain's Best Bike Ride by John Walsh and Hannah Reynolds is a beautifully illustrated and inspirational guide to the ultimate thousand-mile cycling adventure from Land's End to John o' Groats. There are many ways to cycle between Land's End and John o' Groats, but the route specially created for this book, LEJOG1000, is designed to show you the quiet roads, picturesque villages and dramatic landscapes that make the experience memorable. Instead of taking the most direct route, it invites you to explore the best of each region you pass through.

You'll discover stunning beaches and wild ponies on your way along the quiet wild-flower-edged lanes of Cornwall and Devon, follow the meandering River Wye in Wales, wind your way through a post-industrial landscape of canals and mill chimneys in the North West, before moving on to the epic climbs and grand vistas of Scotland. Carefully crafted to allow you the freedom to create your own ultimate adventure, the route is split into 30 adaptable stages, each finishing in a town or village with suggested places to eat, drink and stay. Create your own bespoke itinerary, or use one of three itinerary options provided: the 2-week classic, 3-week explorer or 10-day challenge.

Along with stunning photography and lively insightful writing you will find all the practical information you need to plan your LEJOG1000 - route directions, bespoke mapping, cafes, pubs and local bike shops. Downloadable GPX files of the route are also available. Britain's Best Bike Ride will inspire you to take on this once-in-a-lifetime challenge - you'll be pedalling into John o' Groats having experienced the very best of Britain on a bike before you know it!