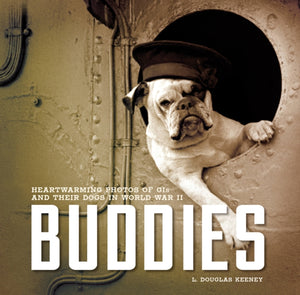 New Paperback
One of the most effective forms of American propaganda during World War II was the morale-boosting dog (or buddy) photo. The photos reassured folks back home that despite the horrors of the war, their boys were still boys.
Buddies: Heartwarming Photos of GIs and Their Dogs in World War II is chock-full of photos of warriors and their pups, along with stories of the dogs and their service in Europe and the Pacific. This new edition includes even more photos and tales of furry friends on the front.
Max, a Boxer, was a full-fledged paratrooper in the Army who earned his wings after five jumps. Skippy, a pit bull pointer, was such a big part of his bomber crew that members painted him on their B-17 Flying Fortress and fitted him with a custom oxygen mask. Don't forget the salty dogs of the navy such as Hobo, who followed his pals when they took a beach. "Private" Chico, a marine mutt, promptly dug his own foxhole after landing on Bougainville. The US Coast Guard counted many puppies who were born on ships among their furriest, and possibly most beloved, sailors. Pete the Pooch, a tenacious terrier, even helped bring in mooring lines!
Although dogs were the most popular mascot, a few chickens, crows, cats, goats, and monkeys made their way into the hearts of our fighting men. Get the full story on these companions too!