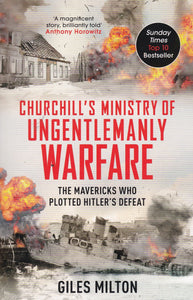 New Paperback
In the spring of 1939, a top secret organisation was founded in London: its purpose was to plot the destruction of Hitler's war machine through spectacular acts of sabotage.

The guerrilla campaign that followed was to prove every bit as extraordinary as the six gentlemen who directed it. One of them, Cecil Clarke, was a maverick engineer who invented a lethal bomb. Another, William Fairbairn, was the world's leading expert in silent killing.

Led by dapper Scotsman Colin Gubbins, and aided by a group of formidable women, these six men and their sabotage attacks single-handedly changed the course of the war.