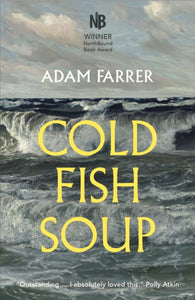 New Paperback
Before Adam Farrer's family relocated to Withernsea in 1992, he'd never heard of the Holderness coast.

The move represented one thing to Adam: a chance to leave the insecurities of early adolescence behind. And he could do that anywhere. What he didn't know was how much he'd grow to love the quirks and people of this faded Yorkshire resort, in spite of its dilapidated attractions and retreating clifftops.

While Adam documents the minutiae of small-town life, he lays bare experiences that are universal. His insights on family, friendship, male mental health and suicide are revealed in stories of reinvention, rapacious seagulls, interdimensional werewolves, burlesque dancing pensioners, and his compulsion towards the sea. Cold Fish Soup is an affectionate look at a place and its inhabitants, and the ways in which they can shape and influence someone, especially of an impressionable age.

Adam's account explores what it means to love and be shaped by a place that is under threat, and the hope - and hilarity - that can be found in community.