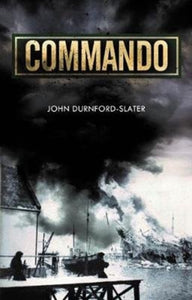 New Paperback
Commando is the real and exciting story of one of the most important units of World War II. The Commando unit played an important role in Britain's successes and, here, Durnford-Slater gives his first-hand and unique point of view on everything that happened. Brigadier Durnford-Slater raised and trained the first Commando unit in 1940, and Commando tells the brilliant story of an outstanding leader and some of the most courageous exploits of the Second World War.

In 1940, 3 Commando was created to harry opposition forces in raids impossible for regular army units. Durnford-Slater led No. 3 Commando on an exploratory operation in Guernsey in summer 1940, and never looked back after that.

From there, No. 3 Commando orchestrated raids on the Loften Islands and Vaagso in Norway and Dieppe, as well as operations in Sicily, Italy, France and Germany. The commandos were so effective at creating destruction that Hitler personally ordered that all fighters captured during these missions be executed.

Despite this immense threat, the commandos' spirit remained undented and extremely high. This excellent, first-hand account explains the creation of Commando, the nature of their operations, the high level of camaraderie between the men and the effect that they had on the course of the War. It is an exciting and instructive guide to what really went on with Commando.