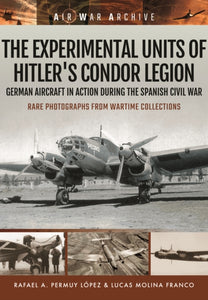 New Paperback
At the start of the Spanish Civil War the nationalists sought help for their cause from Germany, following which volunteers from the German Air Force and Army formed what was called the Condor Legion. This force made a significant contribution to General Franco's eventual victory and this included two experimental air units, known as VJ/88 and VB/88. The former's mission was to combat test the new monoplane fighters; the Messerschmitt Bf 109 and the Heinkel He 112.

The latter group's task was to test the new twin-engine, retractable undercarriage bombers; the Heinkel He 111, the fast Dornier Do 17 and the Junkers Ju 86. The Heinkels made their combat debut on 9 March 1937, when they attacked Republican held airfields in support of the Battle of Guadalajara. The Heinkel proved superior to the two other German medium bombers, being both faster and carrying a heavier bomb load.

Likewise, the Messerschmitt Bf 109 was quickly found to be the better of the two fighters. This book aims to examine the history of the men and machines that served in those units. 'The Fuhrer thought the matter over. I urged him to give support [to Franco] under all circumstances, firstly, in order to prevent the further spread of communism in that theatre and, secondly, to test my young Luftwaffe at this opportunity in this or that technical respect.