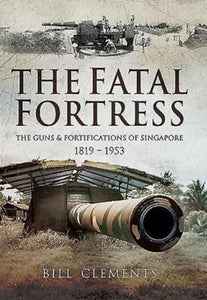 New Hardback
The Fall of Singapore in February 1942 was arguably the greatest disaster suffered by the British Empire. Between 1923 and 1938, the Singapore naval base had been upgraded with some of the largest coast guns ever installed. The guns' design and incorrect siting have since been blamed for the humiliating debacle.

The Fatal Fortress traces the history of Singapore's fortifications and guns from the city's foundation in 1819 to the demise of coast artillery in the British Army in 1953. It also follows the development of artillery through the Victorian era of muzzle-loading guns to the introduction of the large breech-loading guns of the twentieth century. The author argues that it was not the siting of the guns that brought about the fall of Singapore, but an overall failure in command and control and a lack of suitable ammunition.

The book is illustrated with a large number of photographs, drawings and plans, and contains a gazetteer describing all the batteries and forts, both existing and demolished. There is also an annex giving the details of the guns that were installed in Singapore.