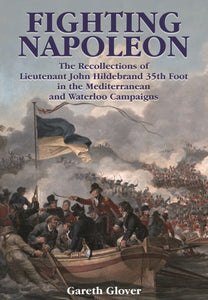 New Hardback
It is often forgotten that Britain's struggle against Napoleon ranged across the continents, and the extensive operations of the Royal Navy and the British Army in the Mediterranean was a key battleground in this prolonged war of attrition. Even when Napoleon considered himself the master of Europe, he was unable to control the Mediterranean. Lieutenant John Hildebrand arrived in the Mediterranean as part of the garrison of Malta in 1810.

He was then involved in the defence of the island of Sicily; the campaign to capture the Ionian Islands; the siege of Ragusa, and the Occupation of Corfu. With the war ending in 1814, John and his regiment returned home, only to be sent to Belgium when Napoleon escaped from Elba in 1815. The regiment was not involved at Waterloo, but was at Hal which guarded Wellington's flank during the battle.

He then marched to Paris with the army. These lively and entertaining memoirs, edited and annotated by renowned historian Gareth Glover, are certain to find a wide readership amongst Napoleonic enthusiasts, providing an intriguing counterpoint to Wellington's operations in the Iberian Peninsula.'In a few minutes we perceived two fully armed boats - with stout rowers - dart from it, with all the energy and alacrity of making a certain capture. I was dismayed at the scrape I had got into, and could not see a possibility of escape.' Lieutenant Hildebrand at the Capture of the Ionian Islands.