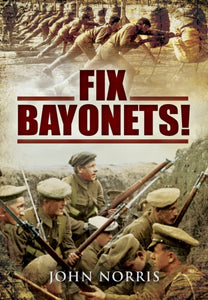 New Hardback
The bayonet is an essential item of a soldier's kit even on today's modern hi-tech battlefield. This work examines the origins of this humble weapon and the 'cult of the bayonet' as espoused by the Russian General Alexander Suvorov who asserted that "The bullet misses, the bayonet does not". The first bayonets appeared in France in the early 17th century and soon they were being used by every army in Europe.

The author examines the spread of this simple weapon and how it led to fundamental changes being made in battlefield tactics. Over 300 years later, in the age of hi-tech warfare and weapons of mass destruction, the bayonet is still in service with armies around the world. British and US forces in Afghanistan regularly have their bayonets fixed.

Fix Bayonets illustrates how tactics changed and the design of the weapon, although fundamentally the same, has evolved over the centuries. Much myth and legend surrounds the subject of bayonet charges and the weapon has become an icon of defiance and the determination to do whatever it takes to win. The author examines evidence for the reality of such actions.

How did the ordinary soldier feel to be told 'fix bayonets'? John Norris draws on personal accounts of soldiers using bayonets in combat from the Napoleonic and Crimean Wars, various Colonial campaigns, through the World Wars, Falklands War and into the 21st century in Afghanistan. In so doing he explains the seemingly anachronistic survival of this simple weapon on the modern battlefield.