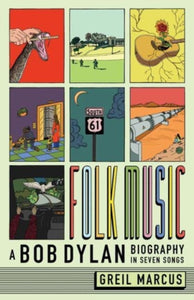 New Paperback
Across seven decades, Bob Dylan has been the first singer of American song.

As a writer and performer, he has rewritten the national songbook in a way that comes from his own vision and yet can feel as if it belongs to anyone who might listen. In Folk Music, Greil Marcus tells Dylan's story through seven of his most transformative songs. Marcus's point of departure is Dylan's ability to "see myself in others." Like Dylan's songs, this book is a work of implicit patriotism and creative skepticism.

It illuminates Dylan's continuing presence and relevance through his empathy-his imaginative identification with other people. This is not only a deeply felt telling of the life and times of Bob Dylan but a rich history of American folk songs and the new life they were given as Dylan sat down to write his own.