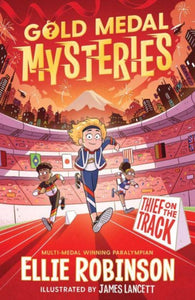 New SIGNED Paperback
Join three sporting detectives as they race around the world in the brand new mystery adventure series from multi gold medal-winning Paralympian, Ellie Robinson.
Hannah, Maria, and Seb are at the World Championships in Tokyo, bonding over their excitement at watching their favourite athletes compete. But Jesse Marks, a star runner on the US relay team has had his gold medal stolen! The sport park is alive with gossip and as the three new friends begin to investigate, several suspects begin to emerge.

With time running out before the final race is run, can the detectives uncover who is out to sabotage the team? The race to solve the case is on in this twisting, action-packed look-behind-the-scenes at the world's biggest sporting event, with clues and illustrations throughout from James Lancett.