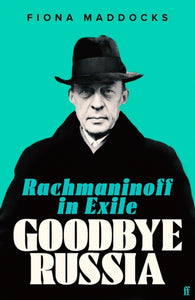 New Hardback
In 1940 Sergei Rachmaninoff, living in exile in America, broke his creative silence and composed a swan song to his Russian homeland. What happened in those final haunted years and how did he come to write his farewell masterpiece, the Symphonic Dances?Rachmaninoff left Petrograd in 1917 in the throes of the Russian Revolution. He was 44 years old, at the peak of his powers as composer-conductor-performer, moving in elite Tsarist circles, as well as running the family estate, his refuge and solace.

He had already written the music which, today, has made him one of the most popular composers of all time: the second and third Piano Concertos and two symphonies. The story of his years in exile in America and Switzerland, has only been told in passing. Reeling from the trauma of a life in upheaval, he wrote almost no music and quickly had to reinvent himself as a feted virtuoso pianist, building up untold wealth and meeting the stars- from Walt Disney and Charlie Chaplin to his Russian contemporaries and polar opposites, Prokofiev and Stravinsky.

Yet the melancholy of leaving his homeland never lifted. Using a wide range of sources, including important newly translated texts, Maddocks' immensely readable book conjures impressions of this enigmatic figure, his friends and the world he encountered. It explores his life as an emigre artist and how he clung to an Old Russia which no longer existed.

That forging of past and present meets in his Symphonic Dances (1940), his last composition, written on Long Island shortly before his death in Beverly Hills, surrounded by a close-knit circle of Russian exiles.