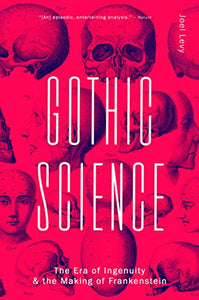 New Paperback
Mary Shelley's Frankenstein was conceived against the backdrop of rapid change in the scientific world. And the science that inspired it is almost as strange as the novel itself. Shelley grew up surrounded by several of Europe's prominent scientific thinkers and was familiar with experimentation into reanimation of corpses as well as the heated debate over 'the elixir of life'.

She was a frequent visitor to St Bart's operating theatre, where spectators witnessed surgery performed without anaesthetic. Her monster was born in an era of bodysnatching, dissections and the philosophy of Vitalism. This book offers an engrossing insight into the world of science in late-eighteenth and early-nineteenth-century Europe, through the prism of the seminal science fiction novel.

Illustrated with line drawings and colour plates, it reveals how the monster was conceived, suggests the real-life basis for Victor Frankenstein and describes in vivid detail the experiments that might have led to the Creature's birth. It also looks at incarnations of the monster since the book was published and modern interpretations of the 'mad scientist', as well as looking ahead to permanent bionic limbs, implants and other wonders.