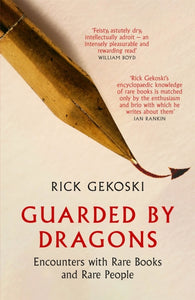 New Hardback
Rick Gekoski has been traversing the rocky terrain of the rare book trade for over fifty years. The treasure he seeks is scarce, carefully buried and often jealously guarded, knowledge of its hiding place shared through word of mouth like the myths of old. In Guarded by Dragons, Gekoski invites readers into this enchanted world as he reflects on the gems he has unearthed throughout his career.

He takes us back to where his love of collecting began - perusing D.H. Lawrence first editions in a slightly suspect Birmingham carpark. What follows are dizzying encounters with literary giants as Gekoski publishes William Golding, plays ping-pong with Salman Rushdie and lunches with Graham Greene.

A brilliant stroke of luck sees Sylvia Plath's personal copy of The Great Gatsby fall into Gekoski's lap, only for him to discover the perils of upsetting a Poet Laureate when Ted Hughes demands its return. Hunting for literary treasure is not without its battles and Gekoski boldly breaks the cardinal rule never to engage in a lawsuit with someone much richer than yourself, while also guarding his bookshop from the most unlikely of thieves. The result is an unparalleled insight into an almost mythical world where priceless first editions of Ulysses can vanish, and billionaires will spend as much gold as it takes to own the manuscript of J.K.

Rowling's Tales of Beedle the Bard. Engaging, funny and shrewd, Guarded by Dragons is a fascinating discussion on value and worth. At the same time, Gekoski artfully reveals how a manuscript can tell a thousand stories.