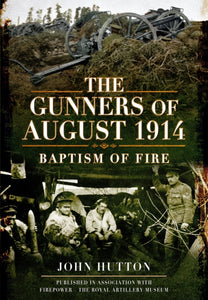 New Hardback
The Great War will always be synonymous with trench warfare and the mass slaughter inflicted by machine guns on the helpless but gallant infantry. There is a good reason for this view as the machine guns took a terrible toll, and the infantry's experiences continue to fascinate and appal people today. But one aspect of the fighting that gets insufficient attention is the artillery.

Histories of the major battles often reduce the role of the big guns to a few paragraphs, and this has created a seriously distorted impression of the reality of the fighting. A better balance needs to be struck, and that is the intention of John Hutton's new book on the gunners of 1914. He tells the story of the war as the gunners themselves saw it, focusing on the first few months of warfare which were fundamental to the conduct of the campaign.

The gunners may not have always shared the trench experiences of the infantry in the front line, but they were in the thick of the action, and success or failure depended on them. The personal testimonies of those who served with and supported the guns provide a vital insight into the colossal tragedy and drama of the war from the artilleryman's point of view.