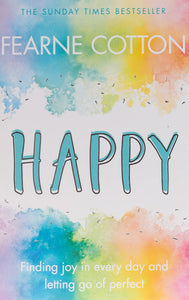 New paperback
This book is a way to release what's going on inside your head and to keep heading towards the good stuff. The simple stuff. The stuff that's going to really hit up that happiness on a deep and nourishing level.

Whether you dip into these pages every now and then when you feel you need it, or use it daily as a positive exercise, I hope it brings you much relief, joy and calm. Amen to the pen." - Fearne Cotton
For many of us, life can feel like it's moving too fast with pressure bearing down on us from all sides - whether that's from school or work, family or social media. As a result, we find ourselves frazzled, lost and - too often - feeling blue.

It's a subject close to Fearne's heart. Drawing on her own experiences and including expert advice, HAPPY offers practical ways of finding joy each and every day. Happiness isn't a mountain to climb, it's just one foot in front of the other on the path of life, and here you'll find little steps that will help make the differences that count.

With workbook elements to help you start and end the day well; get in touch with your creative side; and find peace through written exercises, simple practical ideas and visualisations, these are daily tricks and reminders to help you unlock that inner happiness.