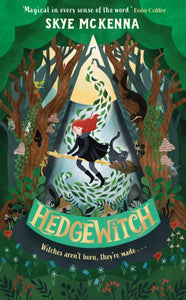 New Hardback
Step into the magical world of Hedgewitch, where the land of Faerie lies just beyond our own, in this enchanting new series for children age 9+ and readers of Nevermoor, The Worst Witch and The Dark Is Rising.
Cassie Morgan has run away. After seven years spent waiting for her mother to return, she flees her dreary boarding school and sets out to find her.

But the world outside her school is full of hidden magic and children have been going missing. With the help of a talking cat and a flying broom, Cassie escapes to the enchanted village of Hedgely. There she will begin her training in the practical skills of witchcraft with the Hedgewitch, who watches over the Hedge, the vast forest that marks the border between England and Faerie.

Will Cassie discover the truth about her mother? Can she find the lost faery treasures before the wicked Erl King gets his hands on them? And what will it take to save her new home - and Britain itself - from the shadowing magic of Faerie?