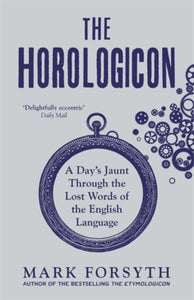 New Paperback
Mark Forsyth presents a delightfully eccentric day in the life of unusual, beautiful and forgotten English words.

From uhtceare in the hours before dawn through to dream drumbles at bedtime, The Horologicon gives you the extraordinary lost words you never knew you needed. Wake up feeling rough? Then you're philogrobolized. Pretending to work? That's fudgelling (which may lead to rizzling if you feel sleepy after lunch).

A Radio 4 Book of the Week, The Horologicon is an eye-opening, page-turning celebration of the English language at its most endearingly arcane.