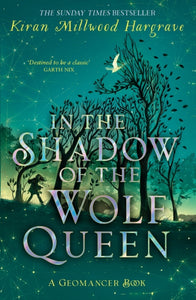 New SIGNED Hardback
The start of an epic new fantasy trilogy from bestselling, award-winning author Kiran Millwood Hargrave.
The earth is stirring...
Ysolda has lived her life in the shadow of the wolf queen's tyrannical rule but, safe in her forest haven, she has never truly felt its threat.

Until one day when a mysterious earthquake shakes the land and her older sister Hari vanishes in its wake. Accompanied by her loyal sea hawk, Nara, Ysolda embarks on a desperate rescue mission. But when she is forced to strike a bargain with the wolf queen herself, she soon finds herself embroiled in a quest for a magic more powerful - and more dangerous - than she could ever have imagined ...

From the author of The Girl of Ink and Stars, Julia and the Shark and The Mercies, the Geomancer trilogy is a new modern classic for readers young and old.