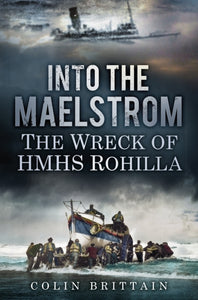 New Paperback
On 29 October 1914 the hospital ship Rohilla left Queensferry with 234 people on board bound for Dunkirk. Just after 4 a.m. on 30 October there was a tremendous impact as the ship ran onto rocks at Saltwick Nab, a mile south of Whitby.

Mortally wounded only 600 yards from shore, she was 'so close to land yet so far from safety'. It was impossible to launch the Whitby No. 1 lifeboat to aid those stranded on the ship, instead the No. 2 boat, John Fielden, was lifted over the sea wall and hauled over the rock Scar to opposite the Rohilla. Despite being holed, the lifeboat reached the wreck after great difficulty and rescued five nurses and twelve men. A further eighteen men were saved in a second trip, but damage to the lifeboat barred any further rescues.

This book unfolds the heroic events that transpired as members of the public and lifeboatmen struggled to reach those stranded on the wreck. The final fifty souls were saved in an impressive rescue from a motor lifeboat that had travelled over 40 miles in perilous conditions to reach them. Of the 234 people on board the Rohilla eighty-nine were lost.

Such was the effort involved that the RNLI bestowed some of its highest medals on several of those involved in the rescue. The loss of the Rohilla is still regarded as one of the worst tragedies to have occurred amongst the annals of the RNLI.