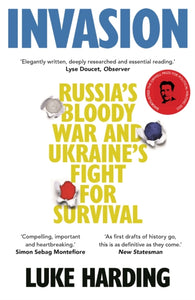 New Paperback
For months, the omens had pointed in one scarcely believable direction: Russia was about to invade Ukraine.

And yet, the world was stunned by the epochal scale of the assault that began in February 2022. It was an attempt by one nation to devour another. Invasion is Luke Harding's compelling chronicle of the war that changed everything.

For this breathtaking work of reportage he spent months reporting on the ground during the build up to the conflict and afterward; his book tells of the initial days of shock and panic, the grim reality of this ongoing war, and the unheard human stories behind the headlines. Invasion also offers insightful portraits of the the war's two great personalities. One, Volodymyr Zelenskiy, is an actor-turned-president who rallied support on a global stage.

The other, Vladimir Putin, is a dictator who dwells in a strange and unreachable realm. Harding examines the ideological, religious and personal reasons behind Putin's decision to invade. And he confronts a crucial question: which side will prevail in this terrible war? With the ripple effects of the largest armed conflict in Europe since 1945 already being felt beyond Ukraine and Russia's borders, it is more vital than ever to understand how the situation on the front line will have profound effects for us all.

Written in Luke Harding's starkly transfixing style, Invasion makes for essential reading.