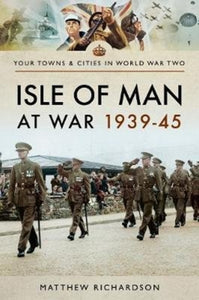 New Paperback
Isle of Man at War 1939-45 presents the remarkable story of the Manx people, and their homeland, in the most destructive conflict of the twentieth century. Few people are now aware of the extraordinary role that this small island played in assisting the allied war effort. Yet for six years, a place best known for motorcycle racing and as a holiday playground became a heavily armed fortress.

Hundreds of airmen, soldiers and sailors were trained in readiness for combat. Thousands of enemy aliens were imprisoned behind the barbed wire of its camps, alongside those of British birth who were deemed to be a threat to security. Top secret radar was developed, and the Island's merchant fleet played a vital role at Dunkirk and D-Day.

On battlefields around the world, gallant Manxmen fought bravely, whilst at home, in spite of the pressures which total war brought to society, there was a perhaps surprising tolerance for those with pacifist beliefs. Likewise, though there was increased government control in almost all areas of life, these were times of great advancement for Manx democracy. The story is told in the words of those who were there - some of these eyewitnesses speaking for the first time about their experiences, and among them the last survivors of that generation.

Their accounts bring a freshness and immediacy to this remarkably vivid narrative.