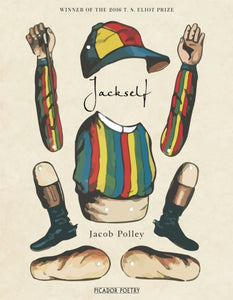 New SIGNED Paperback
Winner of the T. S. Eliot Prize for Poetry.

Jackself is the fourth collection from one of Britain's finest poets, and sees Jacob Polley at the height of his powers. In one of the most original books of poetry to appear in the last decade, Jackself spins a kind of 'fictionalized autobiography' through nursery rhymes, riddles and cautionary tales, and through the many 'Jacks' of our folktale, legend, phrase and fable - everyman Jacks and no one Jacks, Jackdaw, Jack-O-Lantern, Jack Sprat, Cheapjack and Jack Frost. At once playful and terrifying, lyric and narratively compelling, Jackself is an unforgettable exploration of an innocence and childhood lost in the darker corners of Reiver country and of English folklore, and once more shows Polley as one of the most remarkable imaginations at work in poetry today.

T. S. Eliot judging panel described Jackself as 'a firework of a book; inventive, exciting and outstanding in its imaginative range and depth of feeling'.