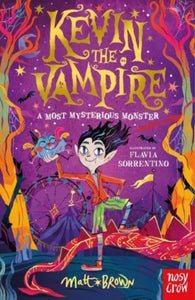 New Paperback
When Kevin and his family get stuck in a strange town, they accidentally wake up something OLD and VERY HUNGRY. It's up to Kevin to save everyone - or else! The first in a brilliantly funny fantasy adventure series.

Kevin Aurelius is just like any other almost eleven-year-old. Well, apart from his fangs obviously. And that he's immortal.

Oh and did I mention he's a vampire?Together with his vampire parents and annoying older siblings, Kevin's on his way to Monstros City when, due to dodgy batnav, they get stranded in a strange, quiet place full of humans called Lower Drudging. With empty coffers in need of filling, their only choice is to put on an impromptu carnival to earn the gold they need to get back on their way. But Lower Drudging has a monstrous secret of its own.

A secret that is old, very hungry and has just woken up! It's up to Kevin and his new best friend Susie to save the town - or else!