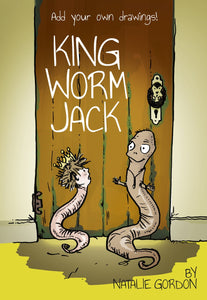 New Paperback
If only Jack's teacher, Mr. Prickles, was nice to him. If only his older brother wasn't so good at everything. If only he could get inside his teacher's brain and find out what was making him so mean and miserable…
Meet Jack, an ordinary boy with an extraordinary cat, Max. And a best friend called Sally who's really clever. And another best friend called Rodney, who's a worm. Together, they set out to cure Jack's teacher of grumpiness.
You might not think a boy could be a worm. You might not think that worms could explore inside teachers' brains. Nor did Jack, but that was until he discovered Max's magical powers. Soon he finds himself running from bogeymen, freeing caterpillar eyebrows, discussing sad memories with Molly the memory matron, arguing with Jeff, the voice at the back of Mr. Prickles' head, and more.
Along the way, he and Chief Worm Rodney invent the chocolate flavoured sprout and discover how to do the perfect somersault. Find out if they've done enough to cure Mr. Prickles of grumpiness.