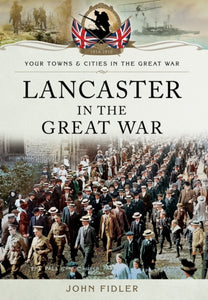 New Paperback
Although Lancaster was the ancient County town, it had a population of only 40,000 in 1914. Of these, it is thought that some 5,000 men saw war service between 1914-18, and over 1,000 did not return. In consequence, the recruiting drives, the tribunals to consider exemption from 1916, and the ever-growing casualty lists provide the main theme for this book.

Some 3,000 men had volunteered by December 1914, to join those already serving. While the depot of the King's Own Royal Lancaster Regiment was in the town, about eighty regiments had Lancaster men in their ranks, and both the casualty lists and the awards for gallantry reflect this. The town was out of range for shelling from the sea, or aerial bombardment, but did experience an explosion at its munitions factory in 1917.

Apart from this, the mayor and council endeavoured to continue with their primary duties as far as possible in running the town.