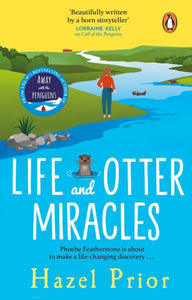 New Paperback
Down by the river, Phoebe Featherstone is about to make a life-changing discovery . .

Clever, nosy Phoebe is unable to get out much, but she has a talent for uncovering her neighbours' secrets by examining the parcels delivered by her courier father, Al.

When they discover an abandoned baby otter on the riverbank, Phoebe must step out of her comfort zone - and she experiences an unexpected sense of happiness that she has not felt in a very long time. But now, further secrets are coming to light.

Phoebe soon realizes that something is amiss at the local otter sanctuary. She will need to overcome her own close-ly guarded issues and put all her sleuthing skills to good use if she wants to save the otters .

. . and in the process, change her life for ever.