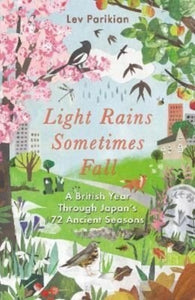 New Paperback
See the British year afresh and experience a new way of connecting with nature - through the prism of Japan's seventy-two ancient microseasons. Across seventy-two short chapters and twelve months, writer and nature lover Lev Parikian charts the changes that each of these ancient microseasons (of a just a few days each) bring to his local patch - garden, streets, park and wild cemetery. From the birth of spring (risshun) in early February to 'the greater cold' (daikan) in late January, Lev draws our eye to the exquisite beauty of the outside world, day-to-day.

Instead of Japan's lotus blossom, praying mantis and bear, he watches bramble, woodlouse and urban fox; hawthorn, dragonfly and peregrine. But the seasonal rhythms - and the power of nature to reflect and enhance our mood - remain. By turns reflective, witty and joyous, this is both a nature diary and a revelation of the beauty of the small and subtle changes of the everyday, allowing us to 'look, look again, look better'.

It is perfect gift to read in real time across the British year.